Attention End of 2020 and 2021 Brides!
My name is Donna Savoy, owner of Donna Beth Creations, and I have been in business for over 30 years and have worked with over 35,000 brides to make their dream gown a dream fit for their special day.
Due to the Covid-19 pandemic and so many weddings rescheduled to 2021, we will have 4,000-5,000 brides needing wedding gown alterations for their 2021 weddings, which is more than double the workload we usually manage.  We cannot handle such an increase in workload all at one time, and we need your first fitting with us as soon as possible this year.  There are only 2-3 legitimate bridal gown alterations specialists in Colorado, and they will be in the same situation next year, so other seamstresses are going to be very booked as well.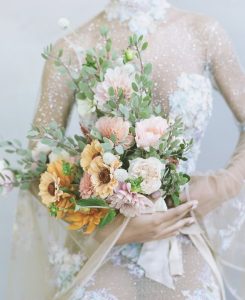 We are offering a 30% wedding dress alterations discount to brides who schedule and come in for their first fitting prior to October 15th, 2020.  You will have at least 3 fittings total, with the final fitting a couple of weeks before your 2021 wedding date.  Your cost of alterations at your first fitting covers all fittings, storing your gown with us until your final fitting, and pressing of your gown and packing it if you have a destination wedding.
To avoid a lot of stress, trouble, and potential rush fees in trying to get your wedding gown alterations completed in the end of this year and 2021, or possibly not being able to get them completed at all, please contact me today at 720-373-9403, or ray@donnabethcreations.com and schedule your first fitting for prior to October 15th .  THANK YOU for your prompt attention to your wedding gown alterations, and I look forward to meeting you soon!
Donna